Reconstructing the House of Culture: community, self, and the makings of culture in Russia and beyond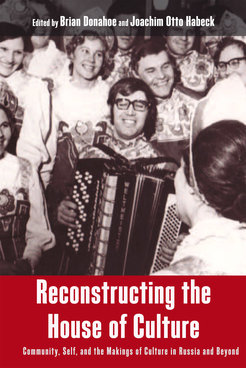 AutorIn
Brian Donahoe and Joachim Otto Habeck (eds.)

Verlag
New York: Berghahn Books

Jahr der Veröffentlichung
2011

ISBN
978-0-85745-275-7

OPAC

Abstract
Notions of culture, rituals and their meanings, the workings of ideology in everyday life, public representations of tradition and ethnicity, and the social consequences of economic transition— these are critical issues in the social anthropology of Russia and other postsocialist countries. Engaged in the negotiation of all these is the House of Culture, which was the key institution for cultural activities and implementation of state cultural policies in all socialist states. The House of Culture was officially responsible for cultural enlightenment, moral edification, and personal cultivation—in short, for implementing the socialist state's program of "bringing culture to the masses." Surprisingly, little is known about its past and present condition. This collection of ethnographically rich accounts examines the social significance and everyday performance of Houses of Culture and how they have changed in recent decades. In the years immediately following the end of the Soviet Union, they underwent a deep economic and symbolic crisis, and many closed. Recently, however, there have been signs of a revitalization of the Houses of Culture and a re-orientation of their missions and programs. The contributions to this volume investigate the changing functions and meanings of these vital institutions for the communities that they serve.