Multiple Moralities and Religions in Post-Soviet Russia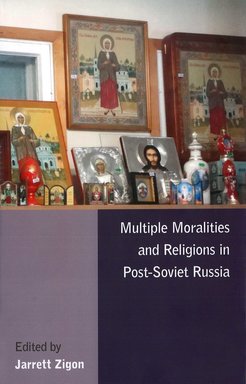 AutorIn
Jarrett Zigon

Verlag
New York, Oxford: Berghahn Books

Jahr der Veröffentlichung
2011

ISBN
978-0-85745-209-2

OPAC

Abstract
In the post-Soviet period morality became a debatable concept, open to a multitude of expressions and performances. From Russian Orthodoxy to Islam, from shamanism to Protestantism, religions of various kinds provided some of the first possible alternative moral discourses and practices after the end of the Soviet system. This influence remains strong today. Within the Russian context, religion and morality intersect in such social domains as the relief of social suffering, the interpretation of history, the construction and reconstruction of traditions, individual and social health, and business practices. The influence of religion is also apparent in the way in which the Russian Orthodox Church increasingly acts as the moral voice of the government. The wide-ranging topics in this ethnographically based volume show the broad religious influence on both discursive and everyday moralities. The contributors reveal that although religion is a significant aspect of the various assemblages of morality, much like in other parts of the world, religion in postsocialist Russia cannot be separated from the political or economic or transnational institutional aspects of morality.