Decentralization and Regional Autonomy in Indonesia: implementation and challenges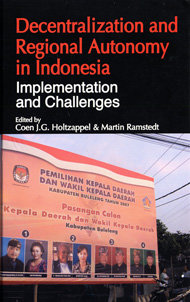 AutorIn
Coen J.G. Holtzappel, Martin Ramstedt (eds.)

Verlag
Leiden: International Institute for Asian Studies

Jahr der Veröffentlichung
2009

ISBN
978-981-230-820-7

OPAC

Abstract
In 1999, Indonesia embarked on a reform of regional governance that brings self-governance to rural districts and municipalities, i.e., the administrative and democratic capacity needed to apply basic services like healthcare, national legislation and environment policies.This edited volume is the first book, which not only deals with the 1999 legislation but also shows how the deficiencies and contradictions of this legislation reduced implementation between 2001 and 2004 to a try-out. The book also discusses the adaptations that were the focus of the debate on the revision of the 1999 legislation that resulted in the 2004 update legislation and the amendment of the 1945 Constitution. Anthropological case studies of five provinces complement and deepen the findings of the more general survey.