Order and Disorder. Anthropological Perspectives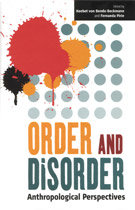 AutorIn
Keebet von Benda-Beckmann and Fernanda Pirie (eds.)

Verlag
New York, Oxford: Berghahn Books

Jahr der Veröffentlichung
2007

ISBN
978-1-84545-198-1

OPAC

Abstract
Disorder and instability are matters of continuing public concern. Terrorism, as a threat to global order, has been added to preoccupations with political unrest, deviance and crime. Such considerations have prompted the return to the classic anthropological issues of order and disorder. Examining order within the political and legal spheres and in contrasting local settings, the papers in this volume, highlight its complex and contested nature. Elaborate displays of order seem necessary to legitimate the institutionalisation of violence by military and legal establishments, yet violent behaviour can be incorporated into the social order by the development of boundaries, rituals and established processes of conflict resolution. Order is said to depend upon justice, yet injustice legitimates disruptive protest. Case studies from Siberia, India, Indonesia, Tibet, West Africa, Morocco and the Ottoman Empire show that local responses are often inconsistent in their valorisation, acceptance and condemnation of disorder.