Changing Properties of Property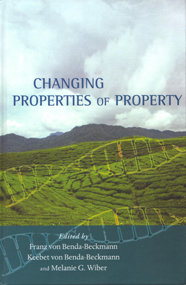 AutorIn
Franz von Benda-Beckmann, Keebet von Benda-Beckmann, Melanie G. Wiber (eds.)

Verlag
Berghan Books

Jahr der Veröffentlichung
2006

ISBN
1-84545-139-2

OPAC

Abstract
Property is a major factor in constituting the identity of individuals and groups. As a result, debates on property theory and the role of law in creating, disputing, and refining property rights have been at the centre of intellectual, economic and political struggles throughout history. However, recent developments in property relationships have put classical property categories under increasing strain. A new analytical framework is vital for taking a renewed look at the place of property under the current conditions of social, economic and ecological change. Providing fresh theoretical insights on property systems, as well as new empirically grounded case studies, this important new book makes a critical contribution to the ongoing debates surrounding notions of property. The property claimants discussed include post-socialist states and their citizens, those receiving restitution for past property losses in Africa, Southeast Asia and in eastern Europe, collectives, corporate, and individual actors. The volume thus provides a comprehensive anthropological analysis not only of property structures and ideologies, but also of property – and its politics – in action.