Reindeer, Rodina and Reciprocity. Kinship and Property Relations in a Siberian Village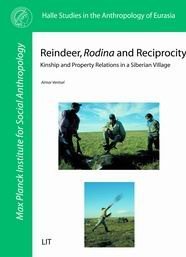 AutorIn
Aimar Ventsel

Verlag
Münster: Lit-Verlag

Jahr der Veröffentlichung
2005

ISBN
3-8258-8047-8

OPAC

Abstract
Kin-based social networks are the main focus of this study of a hunter–herder community in the northwest of the Republic of Sakha, Russian Federation. Aimar Ventsel gives a clear account of the formal organisational changes which have taken place since the demise of socialism and shows how informal relations help local people to cope with increased insecurity, both inside and outside formal structures. Documenting the strategies used to extend kinship, the author draws attention to their relevance for understanding the new system of property relations. While certain features are the products of a specific history and the local environment, the work will appeal to all scholars of Siberia and of postsocialist societies. It also contributes to the wider field of herder-hunter studies by showing how this combination of roles could persist throughout the Soviet era down to the present day.