The Predicament of Chukotka's Indigenous Movement: Post-Soviet activism in the Russian Far North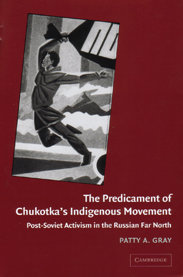 AutorIn
Patty A. Gray

Verlag
Cambridge: Cambridge University Press

Jahr der Veröffentlichung
2005

ISBN
0-521-82346-3

OPAC

Abstract
The Predicament of Chukotka's Indigenous Movement is the first ethnography of the Russian North to focus on post-Soviet relations of domination between an indigenous minority and a non-indigenous majority in an urban setting. As Patty Gray investigates indigenous attempts in Chukotka to overcome this domination, she develops an anthropological approach to social movements that captures the "in-between" that is more than everyday resistance, but less than a full-blown movement. In the process, this book explores the post-Soviet transition as it occured in the part of Russia that is America's closest Eurasian neighbor: Chukotka nearly touches Alaska across the Bering Strait. Gray charts the political transformation in Chukotka as its administration sought to represent itself as "democratic" while becoming even more repressive and demonstrates how the indigenous population in particular suffered under this new form of domination. The "predicament" refers to how the nascent indigenous movement was prepared to address Soviet-style domination and instead was confronted with this "new-Russian" style.