Who Owns the Past? The Politics of Time in a 'Model' Bulgarian Village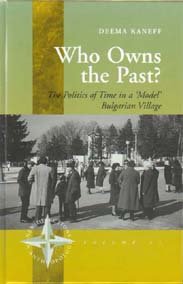 AutorIn
by Deema Kaneff

Verlag
Berghahn Books

Jahr der Veröffentlichung
2004

ISBN
1-57181-534-1

OPAC

Abstract
In this study of politics and the past in contemporary Bulgaria, the author examines the complicated ways in which ideologies of the past are used to make claims to power and resources in the present, and are transformed under different political regimes. Drawing on more than a decade of research in the village of Talpa, she shows how during socialism local-centre relations were played out through the skilled 'use' of three pasts (history, folklore and tradition). Through strategic acquiescence to socialist ideology, Talpa achieved the officially recognised status of 'model' village, with resulting advantageous access to state controlled resources and privileges. After the fall of communism, postsocialist reforms generated a revaluation of the past, a reconfiguration of local power relations and a breakdown of ties between the state centre and periphery. Once a 'model' village, Talpa now faces economic uncertainty and stagnation. Nevertheless, new strategies for engaging in the postsocialist state are being carved out in the face of both continued 'nostalgia' for socialism and disenchantment with the reforms. Such phenomena are not restricted to rural Bulgaria, but common throughout the east European countryside; this book helps us to understand the processes of continuity and change.