Belief, Law and Politics. What future for a secular Europe?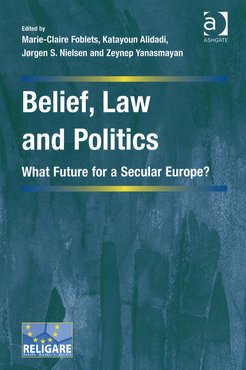 AutorInnen
Marie-Claire Foblets, Katayoun Alidadi, Jørgen S. Nielsen, Zeynep Yanasmayan (eds.)

Verlag
Farnham: Ashgate

Jahr der Veröffentlichung
2014

ISBN
978-1-47245-346-4

OPAC

Abstract
This edited collection gathers together the principal findings of the three-year RELIGARE project, which dealt with the question of religious and philosophical diversity in European law. Specifically, it covers four spheres of public policy and legislation where the pressure to accommodate religious diversity has been most strongly felt in Europe: employment, family life, use of public space and state support mechanisms. Embracing a forward-looking approach, the final RELIGARE report provides recommendations to governance units at the local, national and European levels regarding issues of religious pluralism and secularism. This volume adds context and critique to those recommendations and more generally opens an intellectual discussion on the topic of religion in the European Union. The book consists of two main parts: the first includes the principal findings of the RELIGARE research project, while the second is a compilation of 28 short contributions from influential scholars, legal practitioners, policy makers and activists who respond to the report and offer their views on the sensitive issue of religious diversity and the law in Europe.