Kabul Carnival: gender politics in postwar Afghanistan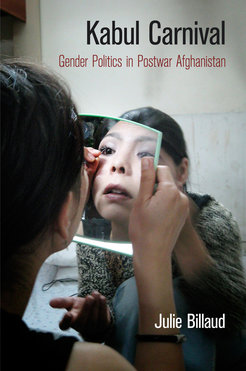 Autorin
Julie Billaud

Verlag
Philadelphia: University of Pennsylvania Press

Jahr der Veröffentlichung
2015

ISBN
978-0-81224-696-4

OPAC

Abstract
After the attacks of September 11, 2001, the plight of Afghan women under Taliban rule was widely publicized in the United States as one of the humanitarian issues justifying intervention. Kabul Carnival explores the contradictions, ambiguities, and unintended effects of the emancipatory projects for Afghan women designed and imposed by external organizations. Building on embodiment and performance theory, this evocative ethnography describes Afghan women's responses to social anxieties about identity that have emerged as a result of the military occupation.

Offering one of the first long-term on-the-ground studies since the arrival of allied forces in 2001, Julie Billaud introduces readers to daily life in Afghanistan through portraits of women targeted by international aid policies. Examining encounters between international experts in gender and transitional justice, Afghan civil servants and NGO staff, and women unaffiliated with these organizations, Billaud unpacks some of the paradoxes that arise from competing understandings of democracy and rights practices. Kabul Carnival reveals the ways in which the international community's concern with the visibility of women in public has ultimately created tensions and constrained women's capacity to find a culturally legitimate voice.