Electric Statemaking in the Greater Mekong Subregion
Kirsten W. Endres
Forschungsgruppenleiterin
Bada Choi
Wissenschaftlicher Mitarbeiter
Floramante S. J. Ponce
Doktorand
Thao Vu
Doktorandin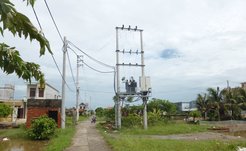 Point of Departure
With the emergence of the modern and modernizing nation-state in East and Southeast Asia, electricity infrastructural development has become part and parcel of statemaking processes. These "electric statemaking" processes not only consolidate state control over territories and resources, but also involve new social relations, identity politics, political institutions, configurations of power and inequality, and the construction of particular subjects and subjectivities.
The research group seeks to investigate the interrelationship between the development of renewable and/or conventional energy systems and the complex operation of modern states and state power in the Greater Mekong Subregion.
Our approach rejects a view of the state as a distinct, fixed, and monolithic object that stands above and separate from society. Instead, we look at how the state not only comes into being, but also enacts and even strengthens its power and authority through electricity infrastructure development.
Research Goal
This research group takes electricity infrastructural development policies and programs of the Mekong region countries as the starting point for a comparative exploration of statemaking processes in contemporary East and Southeast Asia. Our overall aim is to shed light on current understandings of government and governance across different political regimes, by examining how the expansion of electric grids interacts with sociocultural, political, and economic forces at various levels. Electricity infrastructure is conceptualized here not simply as material networks that set other matters in motion, but also as technopolitical assemblages forming part of wider ideological projects and policies central to the organization and exercise of state power.
Key Research Areas
Our project focuses on the following key research areas:
power generation: the rules and procedures of electricity development decision making and the environmental, social and economic impact of electricity infrastructure on the ground
power transmission: power interplay among state and non-state actors at local, national and supranational levels in the context of electricity development
power distribution and consumption: histories of electrification and variations in access and consumption of electricity across different sectors of society
Specific Research Projects
Linked to the core themes outlined, different research projects will be carried out in various local, sociocultural, ethnic, political, and historical settings. Our results seek to break new ground in developing an electric infrastructural perspective on statemaking processes and to fill a significant gap in empirical research on electric statemaking in anthropology. Individual projects and settings include:
(1) The Electrification of Colonial Indochina (Kirsten W. Endres, Head of Research Group – Vietnam)
(2) Renewable Energy Transition and Subjectivity Formation in China (Bada Choi, Postdoctoral Researcher – Kunming/Yunnan, China)
(3) Everyday Experiences of Hydro/Electricity and the Lao State in the Hardmoauk Resettlement (Floramante S. J. Ponce, PhD candidate – Bokeo Province, Northern Laos)
(4) The Making of a "For-People" State through Electrification and Energy Transition in Rural Vietnam (Thao Vu, PhD candidate – Thai Binh and An Giang, Vietnam)