Anthropology and civilizational analysis. Eurasian explorations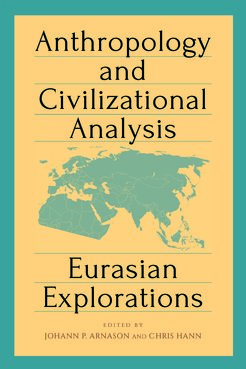 Autoren
Jóhann P. Árnason, Chris Hann (Hrsg.)

Verlag
Albany, NY: SUNY Press

Jahr der Veröffentlichung
2018

ISBN
978-1-4384-6939-3

OPAC

Abstract
The concept of civilization has a long but checkered history in anthropology, and anthropological materials have been of great importance for the development of civilizational analysis in historical sociology. Anthropology and Civilizational Analysis brings these diverse fields together and explores a wide range of topics pertaining to civilization, from classical theories to contemporary rhetorical discourses, including detailed case studies of concrete practices documented through archival and ethnographic research. While many scholars and the wider public still think of civilization in simplistic terms, viewing it in terms of Enlightenment notions of progress and evolution to higher stages, others have pluralized the term only to create essentialized units which are only tenuously linked to historical processes. In this book contributors use dynamic approaches, including those rooted in the seminal writings of Émile Durkheim and Marcel Mauss, opening up the dimension of civilization as an important complement to other key terms such as society and culture in social science and historical analysis.