EASA at Stockholm: Tensions in Public Anthropology
Autor: Chris Hann
22 August 2018
I can recall the decades which the European Championships were dominated by Eastern Europeans, notably the representatives of two vanished states, the Soviet Union and the German Democratic Republic. This year the medals table in athletics was topped by Great Britain, which had mediocre results in the past but nowadays, thanks to lottery funding for elite athletes, emulates the domination of the old socialist regimes. But behind Team GB came a splendid Polish squad. The Russian Federation, banned from competing as a nation-state in athletics due to doping scandals, still managed to triumph in the overall Championships. Several other Eastern European countries also performed well.
A week later at the Stockholm conference of the European Association of Social Anthropologists the patterns were quite different. As Michał Buchowski pointed out in his paper, the east-west balance within the anthropological community has not changed fundamentally since the founding of our association almost thirty years ago. Buchowski showed the audience some maps indicating the affiliations of executive committee members and Keynote speakers: no one east of Vienna! No doubt the expenses of registration and spending the best part of a week in such an expensive city were a consideration for potential participants from other directions as well.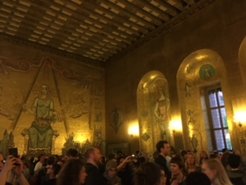 Nevertheless we were informed that over 1500 delegates took part in this biennial meeting. The overall theme "Staying, Moving, Settling" was not especially suited to our ERC project, so rather than propose a collective panel we opted to spread ourselves widely: eight of us were active in four very different sessions. Highlights included the award for the first time of a "lifetime achievement" prize. This went to Adam Kuper, who was the prime mover in the launching of EASA almost 30 years ago. Two new prizes to mark outstanding achievements by young scholars went to Francisco Martínez for his monograph "Remains of the Soviet Past in Estonia", London, 2018) and to Vita Peacock (for her article in Hau [2016, 6:1, 95-119] about "Academic precarity as hierarchical dependence in the Max Planck Society"). Issues concerning the precarity of working conditions for younger scholars in our discipline were a major topic of discussion in the Members' Forum.
It was only to be expected that a good deal of attention would be paid to migrants and refugees, and how social anthropologists could make a distinctive contribution to addressing the dramatic events of recent years in our region. In presenting our results we need to be wary of media sensationalization and of distortions by unscrupulous politicians. But there are other dangers, including lofty condescension or contempt for some of the reactions of receiving societies in Europe. Our values, as cosmopolitan scholars, clearly differ from those of large sections of the societies in which we live and carry out our work. When a speaker implied that Brexit was an unfortunate consequence of extreme media manipulation, a member of the audience from Britain pointed out that the campaign to leave the European Union actually has deep social roots. A publicly engaged anthropology needs to investigate such roots in our own European publics. Several presentations at this meeting indicated ways of going about this task of understanding the "deplorables" (including papers by Agnieszka Pasieka and Juraj Buzalka, alumni of our institution). Those who found time to explore downtown Stockholm during the busy days of the conference could enjoy a marvelous multicultural summer festival. Those who followed the news that week could appreciate the wisdom of a Swedish court ruling that it was illegal to discriminate against a job applicant who refused to shake hands on grounds of her Muslim religion, if she offered a suitable alternative gesture such as placing her hand on her heart. But despite these encouraging trends, there are grounds to suppose that the general election in a few weeks from now will cast some doubts on the current viability of multiculturalism in Sweden.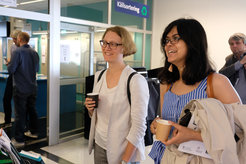 Ulf Hannerz pointed out that a good deal of what gets classified as public anthropology nowadays does not in fact communicate outside small academic communities. This surely applies to this blog, conceived as a way to reach larger audiences than we can possibly reach via the papers we publish in specialist journals. As a genial colleague pointed out informally, our failure has been so miserable that even our central concept of Eurasia is still associated by the general public with Russian nationalist use, rather than with our adaptation of Jack Goody. But short of learning to tweet and diverting more time to op-ed writing, what more can I do?