How Terrorists Learn. Organizational learning and beyond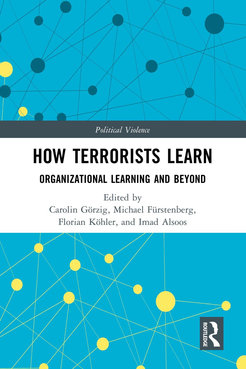 Autor*innen
Carolin Görzig, Michael Fürstenberg, Florian Köhler, Imad Alsoos (Hg.)

Verlag
London, New York: Routledge

Jahr der Veröffentlichung
2024

ISBN
978-1-032-42156-8
Abstract
This volume helps us understand the transformations of terrorist organisations, and the conflicts they are involved in, by broadening the perspective on what is considered terrorist learning.

Using a variety of methodological approaches and empirical data, the volume offers a look at the clandestine inner lives of groups from different continents and ideological backgrounds in order to explore from whom they learn and how, and what the outcomes are. Their internal and external interactions are examined within their socio-political contexts to illuminate how they adapt to challenges or fail to do so. Unpacking the question of 'how do terrorists learn' helps us to grasp not only changes of violent means of action but also of operational and strategic approaches and, ultimately, even transformations of the ends pursued. The chapters demonstrate that terrorist learning is not principally different from that of other human organisations. The contributors draw on conceptual frameworks of organizational learning, but also broaden the scope beyond the organizational framework to acknowledge the variety of forms of informal and decentralized learning characteristic of much contemporary terrorism.

This book will be of much interest to students of terrorism studies, violent extremism, organisational studies and International Relations..